I LOVE weekends. Saturday is my favorite day of the week. I get to sleep in. I don't have to get up and get dressed and get in the car and fight traffic and go to work and deal with people. I love staying in bed until 9 or 10am, except I can't do that because the birds and the squirrels make too much noise and they wake me up so I'm usually awake by 7am. Yep, the birds sing too loud and the squirrels have relay races across my roof. How's a girl to get her much needed beauty sleep with all that racket going on? Don't get me wrong, I'm not really complaining just expressing my disappointment in not being able to sleep in as late as I'd like to. That's all.
Anyway, this past Saturday I slept off and on until about 8am. I kind of like doing that becasue I get to have a bunch of little mini dreams. Most of my dreams are good, some are wierd and a few are bad. This past Saturday morning, I think all of my mini dreams were bad. In one, my brother hit my sweet little dog

with the bumper of his truck and knocked my dogs head off! Then a few minutes later my dogs head is back on but her front legs are missing and she's walking around upright on her hind legs all bloody and mangled and she was crying and she was confused and I didn't know if I could pick her up and comfort her or not because I myself was scared and confused and sort of grossed out. That was a very bad dream, I'm so glad she's ok.
Then in another mini dream, I dreamt (is that right?) that I was driving my car in a parking garage and going around the sprial up ramp and all of a sudden my car was hanging off the edge of the ramp and I had my niece in the car with me and I was trying to stay still for fear of falling but I was also trying to get Emily's car seat unbuckled so that I could get her out of the car before it fell.
That was a bad one too. I had had enough of the bad dreams so I got out of bed.
So at about 8:50 I got in the car and drove about 4 miles to BFFs house. Her house is almost finished and she needs to get packed but there's only one problem. She has to have someone to
gossip with
talk to to keep her motivated. So I hung out and helped her pack. Do you have any idea how much stuff a 10 year old girl has? I'm sure you do since most of yall have little girls. Cheese and rice that girl has a lot of stuff. I
worked like a dog
lovingly helped pack until about 12:45.
Then I had to go to my other nieces 1st birthday party. Here she is, aint she cute?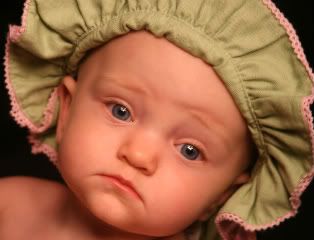 Then BFF and daughter accompanied me to the Quilt Fest, where we
walked our butts off
admired the beautiful works of many quilters state wide. I don't know exactly how many quilts there were but I'd say somewhere in the thousands. Ok, maybe not that many but there were definitely over 500. We entered a drawing for a sewing machine but niether of us won. Which is good because I'd hate to have had to wrestle a 10 year old girl down to the ground if she had won an $800 machine. Yeah, the both of us would have totally digraced ourselves and BFF would have simply ran away. So glad it didn't come to that. I was too tired to fight anyway.
I got home at about 6:30, poured myself a glass of wine and then poured myself into Charles Martin's novel Where The River Ends. I read until about 11pm. I love this guys books, they make me laugh and cry. Plus he lives here in my city which is really cool. Think he'll invite me for coffee and a personal book signing? Yeah, I doubt it too.
Sunday I spent the day reading and sewing. I was totally excited to start on a new quilt but I was equally eager to get back into the book so that's what I did, I "took turns". I'd read a few chapters, then I'd cut and sew fabrics. It worked out great because by the time I went to bed, I had finished cutting and sewing 8 units of the quilt top AND I had finished the book, with tears rolling down my cheeks and cussing Mr. Martin for making me cry AGAIN!
Anyway, it seems that when I placed my order on Amazon, I accidentaly ordered two copies of this particular book, and it's a hard back which is nice. So I was thinking that I don't need 2 copies of this really great book so I'll give one away to someone who loves a good read.
So, if you'd like to have this book, just leave me a comment and I'll randomly select someone to send it to.
Oh, maybe I should tell you a little about the book, huh? Well, have you ever seen The Notebook? it's sort of like that. A couple who are dealing with an illness. There is a list, like in The Bucket List. There are heros and there are mean people. There aint no naughty stuff and there aint no foul language. It's a tear jerker and a laugh-out-louder and you end up falling totally in love with both main characters. I totally enjoyed it!
How was that for a review?
Here's a cool link about the author and the book.
Until tomorrow...