Alright yall, I'm having my very first give away in the hopes of becoming more popular. If it works, I promise I'll have MORE give aways cuz all I want is to be popular here in blogland.
Here's what's up for grabs, a very cute little camo & polkadot purse that I designed and made myself. Don't you just love it?! I do.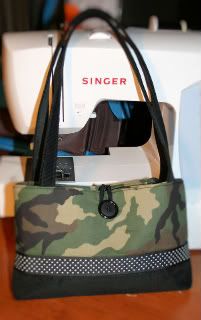 Anyway, as you can see, it's not very big, which makes it perfect for those quick errands in times when you don't really want to lug around your big, (loaded with all kinds of crap that you have no idea how any of it got in there in the first place) heavy purse. Just toss your wallet, cell phone, lipstick and keys in this cute little number and you're on your way!
If you would like to win this prize, leave me some blog love and mention me on your blog (you might want to say something along the lines of how pretty I am or how funny I am or how cool I am, it's totally up to you) and link back to my blog. I don't have one of those cute little tags yet, which might make me somewhat of a looser but oh well, I'll just have to live with that until someone teaches me how to make one. Or until someone really cool makes one for me! :0)
On Sunday, That Baby will randomly draw the winning entry and I'll post the adorable pics!