Sew, I've been on a sewing kick since it's been too dang hot to go outside. (You like my play on words at the beginning, don't you? I'm sew clever sometimes.) Anyway, I've mastered the a-line skirt and I've mastered the jumper style dress for my niece (see pics below) sew I thought I'd give it a go on a cute little shirt to go under the jumper dresses. You'd think that a littl shirt like this would be relatively simple and easy, but NOOOOOOOO! This thing has what seemed like 150 steps in directions. I can't even begin to tell you how many times I had to take it apart and start over. It took me THREE days to get this thing right! At times I got sew aggrivated that I cussed like a sailor, yes I'm a country girl and we say "cuss" not "curse". However, the determined gal that I am, I refused to give up, I pressed on, which is also something you do when you sew, you press the item you're working on, you press the seams, the hems, the binding, etc...
Anyway, day 3 was yesterday, day of triumph! The little shirt kicked my butt, but in the end, I beat it! I overcame, I ruled and I sewed it who's boss! Check it out...are you ready for something absolutely amazing? Feast your eyes on this....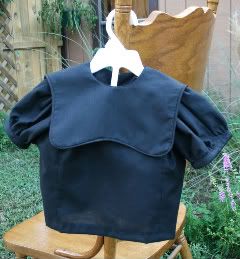 Yep, this is it. A plain black, puffy sleeve, square collar shirt...that probably won't fit her until she's FIVE! But I did it. Go me. ::blink-blink::
Now for the jumpers, these turned out totally cute, in my humble opinion...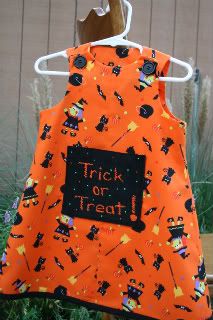 This one is my favorite, she can put candy in the Trick or Treat pocket!
Due to the shirt that kicked my butt, I did not do any sewing this evening when I got home from work. I need a break to recover. Whew!
I'm not sure if this post ends up being an additional post for Tuesday or just Wednesday's post done early but I do know that Thursday's post will announce my very first Give-A-Way!
Oh, by the way, have you participated in my Poll on the right? Scroll down a little, you'll see it...
p.s.
Amy! Is that you I see as my newest official fan??? Isn't that a pic of you and your sister???