So the wedding photos are edited, this is my favorite one...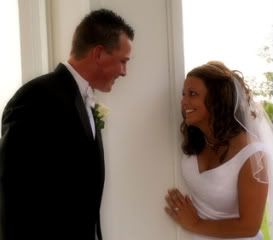 Photographing weddings is a little too stressful for me, I don't think I want to do anymore.
On the other hand, sewing is very unstressful. Sombody please tell me, how. stinking. cute. is this skirt?!!
I have tried to sew clothing before and it never worked out. But this time I was successful! I'm sure that skirts are probably the easiest piece of clothing to make but I feel if I can master this then I'm off to a good start. This skirt is trimmed in bias tape along the hem and waist lines, AND it has a side zipper! I'm so proud of myself. By the way, this was the first one, I made it on Friday evening after work then on saturday I made 3 more and one for That Baby. I have a dress pattern for That Baby that I will try to tackle this week.
Speaking of That Baby...
How 'bout that smile?
See that little doll house chair on the floor? She's trying to sit in it... She just cracks me up!
Have I mentioned that I've been bitten by the sewing bug? Here are a couple of rag dolls I threw together last weekend... they're so cute I think I'll make more...what do you think?
That Baby named this one "Mimi"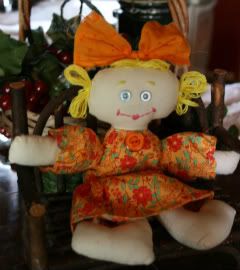 I named this one "Lulu"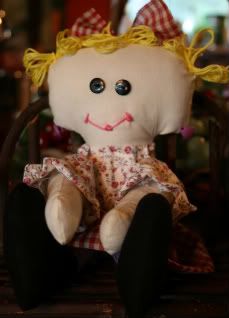 See her earrings?
Ok, that's it for now, I'm gonna go catch up on my blog reading now....
Oh yeah, I almost forgot. I wanna send a great big THANK YOU to my BFF for being such a great BFF. She has very graciously lent me her car for the past 7 days straight while we were trying to repair mine.
BFF, you're the best and I love you with all my heart!!! xoxoxoxoxoxoxox