I use to love to go to Granny's house. I had several Grannies, you know Daddy's Granny, Momma's Granny. Then I had several Grandmas - Daddy's Momma, Momma's Momma. Anyway, Granny and Grandma houses were always a lot of fun for me. One of my Granny's had a vanity full of those little tiny pink miniture lipsticks, I think they were samples. There were glass diamond cut perfume bottles with the squeeze bulbs and spray hoses.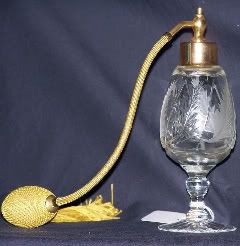 There were black rotary phones
and the beds had metal headboards and footboards. My favorites were the chenille bedspreads,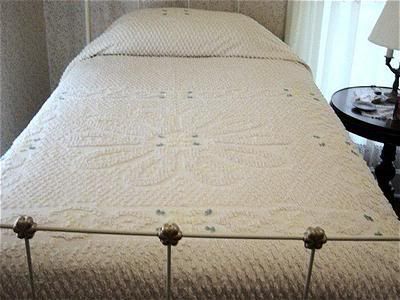 the quilts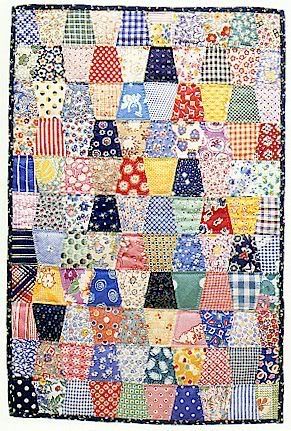 and the glass door knobs!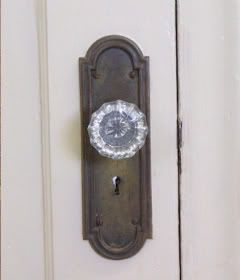 I had one Granny that had those valentine heart shaped candy boxes on her walls, we use to watch The Price Is Right together. Nana, who is shown in a previous post, use to give me manicures and pedicures when I was little and she had a little bottle of perfume that was all mine! The bottle was in the shape of a watering can, the perfume was pink and everytime I went to Nana's house, she would dab a little bit on my wrists. She's the one who taught me how to hover over the potty when in public restrooms! Ok, enough reminiscing.
**Note - the above photos are not mine, they are photos found on the internet that I'm using for illustration purposes only. I can do that right???
I love my house but it has really been a challenge to get it decorated. It would be easy if I had tons of money but I don't so I have to do with what I've got on a very limited budget. A friend told me to write down my favorite colors and my favorite style/theme and she would help me decorate. It isn't that simple for me because I like a lot of different things. Besides that, a huge problem for me is my interior walls. They are wood. Not wood like paneling or cedar but like rough exterior siding, in it's natural coloring. See...
On top of that, I have virtually zero windows in my house. Instead, I have west facing sliding glass doors that run all the way across the back side of my house.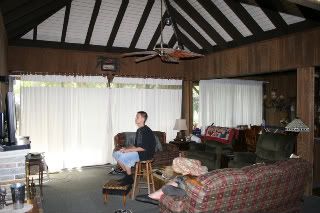 So with the wood walls and lack of windows, it's ver dark and gloomy inside. I've been really bothered lately by the state of my home. I can't go out and buy new furniture or flooring (the flooring is another big issue, right now I have commercial, office building carpet squares, in an aweful shade of blue/gray).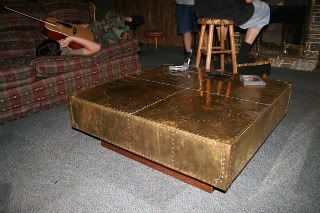 See the carpet? And how about that table? It looks nice when it's polished but it makes me very nervous when my niece is around, those corners don't play around!
Like I said, I love all kinds of styles and themes, I think they are all great. I did country for a long time and have just been kind of stuck in limbo since then. I like the French Country look but with not so many florals. I like the clean white and cobalt blue theme, it just feels fresh and light and airy. I love antiques, I love vintage linens and I love dark, wooden furniture. Ok so with all this in mind, I think my only solution is to paint the wood walls a whitish color, get some light colored slip covers (untill I get new flooring) and make some throw pillows, hang a bunch of paintings and wat-nots on that big huge wall I have and do something with my dining room table and chairs. I'd really like to do something different with my curtains that hang in front of the sliding glass doors, maybe some lace, to let more light in. I picture my house looking like Granny's house, nothing matches but it all flows together. You can tell that there isn't much money but the best is being done with what is had. It's comfortable, clean and welcoming without being too busy or cluttered. I'd say that "Granny's House" is my style. I'd like to decorate my home with the sort of things that were in Granny's house. I wonder what my friend will say when I tell her that? Now I'm gonna have to go back to the flea market and get that Uncle Sam piggy bank that I saw. My Grandpa Brown had one and everytime I went to visit, that was one of the first things I'd play with.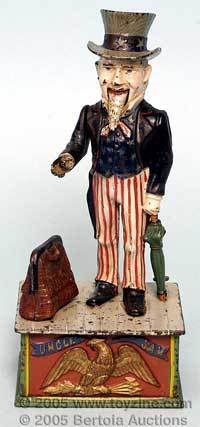 (again, not my photo)
Suggestions are welcomed!
Blessings!