Well yall, I didn't win the Quilt Give Away from Old Red Barn Co. but that's ok cuz not winning has inspired me to make another quilt myself. I just need to finish the trim on Momma & Daddy's quilt first! This year I'm going to make it a goal to only give handmade gifts for Christmas... I'm gonna need more hands! Where was I ? Oh yea, so I didn't win the quilt but I found another super cool blog that I totally enjoy reading plus if making my own soap doesn't work out so good, I've got Dana to buy soap from! By the way, hey Dana, I don't know if it was intentional or not but that was a great marketing strategy! It worked on me, I ordered a set from your website. I'm curious as to how many orders were placed this past week and over the next day or two? I'd like to open up another website someday so I'll keep that move in mind! Gosh, it would be so nice to be able to stay home, make my things, sell them and make enough money to live on. I know - dream on, right? Maybe someday.
In the mean time, I am seriously sick of those squash vine borers! I hate 'em. Ok so imagine this -I merrily skip out to The Garden, I'm so excited, a big smile on my face, I get to the squash, lean over to pick my beautiful perfect squash, I flip it over and what do I find??? Teeny tiney holes. Yep. At this point, my big cheery face has now turned to something that resembles wild and evil rage, I then begin to spit out some very, very ugly words while steam is coming from my ears! Those damn things are ruthless! I think it's probably too late to get rid of them and I'm so fed up that when I do plant more, I'm using sevin dust. It's just that bad. I was also thinking that I'm not cut out for gardening in the summer time. It's just too bloody hot to be out there weeding-n-crap. I almost had a heat stroke last weekend! Besides, the dog days of summer is the perfect time to be inside making things. Spring and fall for gardening, summer and winter for crafting, I think that should be a law.
How 'bout a photo or two?
This is The Garden Gate Guard. Intimidating isn't he?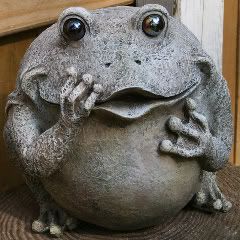 The Garden's Painted Lady. I have successfully brought her back from the dead!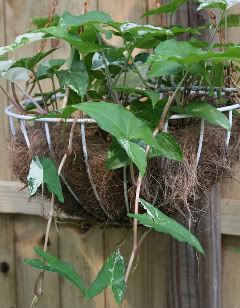 Pretty Pink Mandavilla, growing like crazy!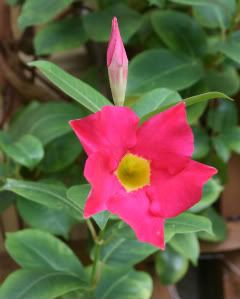 Until next time...