I thought that since today is Thursday, I could designate it the day to give thanks. Of course we should give thanks everyday but I'm just sayin', for the sake of today's title, I'm gonna give thanks. So here it goes...
I'm thankful for the very first blooms on my very first Crape Myrtle. The other baby tree has buds but they haven't bloomed yet...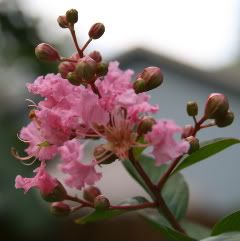 I'm thankful for this piggy bank that my Grandmother gave me for my 15th birthday, it was filled with money! The money has been long gone and Aunt Jamima is looking a bit rough. I think I will spruce her up a little with some fresh paint...
I'm thankful for my cat. His name is Tom Thumb, can you see why? He is a great hunter of squirrels, rats, birds and lizards.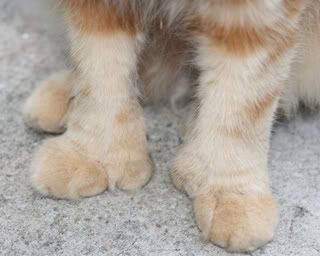 I'm thankful for many, many things but I am not thankful for the punks that keep abusing my mailbox! This is what happens when you have teen age sons who break up with their girlfriends, then said girlfriends get new boyfriends to make the old boyfriend pay for breaking up with her. Oh btw, this was the original mail box. They snatched this one out of the ground and took it with them. Sparky went and bought another mail box and a new post but on the way back saw the old box laying on the side of the road so he brought it back home too. He put the new box on the post and stuck it really far down into the ground. The next morning we discovered that like the old mailbox, the new one had been abducted too! By now Sparky is pretty ticked and very irritated about the kid drama. So, he puts the old box back out but this time he attached it to the concrete wall. Now it seems that all they can do is beat the mail box up. I so want to hide in the bushes and jump out and scare the crap outta these kids then I want to take their bat away from them and take out their truck windows! Wouldn't that be a hoot?!