Yesterday was Cory's 16th birthday so when I got off work I had to rush home to finish his cake. He's been saying how he wants to eat healthier so he opted for a fuity kind of cake instead of the usual chocolate. Needless to say, Sparky was a bit disappointed. Anyway, Cory loves him some shrimp so we took him to a local seafood restaurant where we all ate so much that we couldn't eat any cake. But never fear! There will be some cake eating today!!!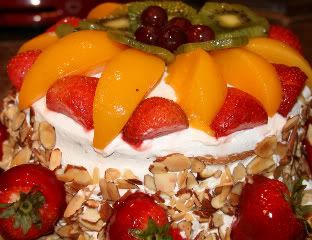 You want some don't you? Looks real good huh?
Alright fine! So I didn't really make the cake but I could have! I really had ya'll goin, didn't I?
Well, my birthday is next so I think I'll make my own cake this year but It'll definitely have to have some chocolate in it. Maybe Chocolate AND fruity? Sounds good to me!