I have 5 boys (including my cutie pie husband)! Actually we are a blended family. I contributed 2 boys and my husband contributed 2 boys. We have all been together for 11 years now. The boys were cute little boys back then - gettin dirty, playing hide and seek, gettin into trouble, fightin', all the things that little boys do. The boys were 3, 5, 5 and 7 when we all met, now they are 14, 16, 16 and 18. Time sure does fly! It's amazing how they've grown. One of the 16 year olds is almost 6'2" and I expect the other one will be about as tall before next summer! The 18 year old hasn't decided what he wants to do yet but we think he's leaning towards the Marines. And the 14 year old is just loving being 14! It hasn't been easy getting through the phases, accepting the individual styles, the learners permitts, the girl friend issues, the sneaking out, the fights at school, the bad report cards and the many other unpleasantries that come along with raising children. On the other hand, the boys have all been an overall joy to bring up. They go from making construction paper Mother's Day cards to being all bowed up and ready to punch some guy because he was checking Mom out. They're just so cute, at all ages. Sparky and I reminisce all the time about them when they were little. We miss them being little but it's nice that they are bigger! Some day, we'll be bouncing grandchildren on our knees and reminiscing yet again...
This is Sparky and I with "That Baby!" and Sparky's 2 sons, the tall one on the left just turned 16 2 days ago and the one on the right just turned 18 this past May.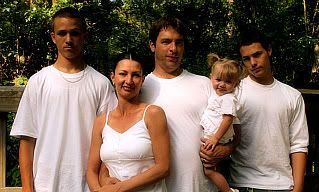 This is my oldest son, he will be 17 in December and is rapidly getting tall...finally!
This is my baby, he just turned 14 this past May and is lovin it!