Today is Fantastic Friday because I will go and pick "That Baby" up after work and I cannot wait!!!! It's such a treat to see her reaction each time she sees me when it's been a few weeks. She gets that tell tell look of surprise with her eyes wide and a big 'ol smile and says "oh!" then she reaches her little arms out to me and starts her little dancing. Then on the ride to my house, she gets so excited and just rambles and rambles, I look back at her and she laughs and wiggles. I'll point out the window and say "Look!" and she turns her head real fast to see and say's "Wus Daaaat?" Oh she's so cute I can't hardly stand it! I don't know what any of us did before she came along. We recently learned that she is going to have a baby sister or a baby brother next March. I'm hoping for a "Sissy" for her.
Here are some older pics...
She fell asleep during a shoulder ride. I love how she uses Sparky's ears for handles!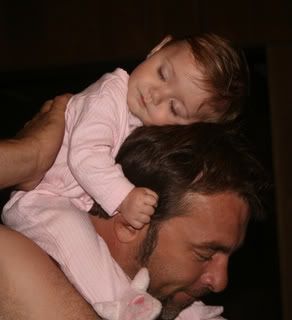 Here she is just being silly. She has the best personality for someone so young and small!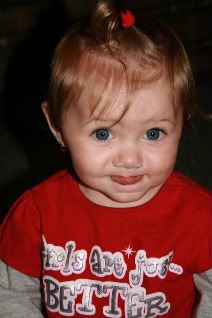 Santa Clause brought this little gift to us on Christmas Day of 2006. Here she is on her first birthday last year. It's hard to believe she will be 2 this Christmas!
Stay tuned for new pics on Monday...