I never did get a chance to look up the temperatures for Saturday and Sunday but I bet is was at least 100 degrees. And cheese & rice, was it humid and sticky! BUT that didn't stop me from getting things done around the house and in The Garden. Saturday I played in the house all day. I watched a few movies. I sewed myself a basic flared skirt but I'm not really happy with it. It's a little too big in the hips and I hate elastic waist bands so I'm gonna work on figuring out how to do something different with it. I also baked 2 loaves of bread and finished my very first afghan! On sunday, I worked in The Garden, ALL... DAY... LONG. I looked terrible! I don't think I've ever sweated like that before in my life! Well, I may have looked terrible but The Garden looks great! Enjoy the pics!
Here's my afghan! Not bad, huh?
Pleeez don't let the worms get into this guy!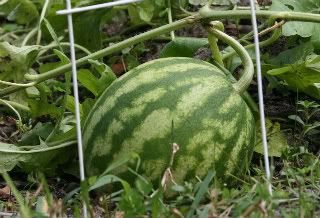 Surviving squash.
Okra plants lookin' good but no signs of okra
yet, what's up wid dat???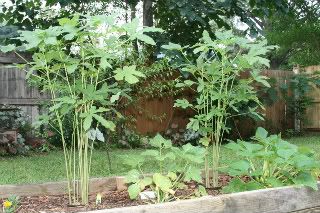 The green beans look great, I think I'll plant more!
It's a baby loofa!!!