Today is Wordful Wednesday which is hosted by Angie at
7 Clown Circus
. In case you didn't already know, it's the official day in Blog Land where you post a photo (or photos) and then you decsribe the scene(s). I love to post photos and then write about them so that makes Wordful Wednesday my favorite blog day!
I decided to make today's post about my son's art. I have hung on to a few of Jordan's little masterpieces for years now with the intention of framing them. Unfortunately, during our last move, we somehow managed to loose my favorite painting which was of a jaguar drinking water from a stream that he did in 3rd grade.
However, all is not lost...
This one he painted at school while in 2nd grade. It's a beautiful bird and a very happy sunshine! I'm not sure but that may be a worm in the bird's tummy. :0)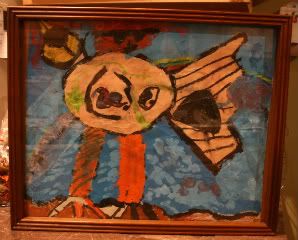 This one is a simple paper drawing of our beloved dog Mackenzie. I believe it to have been drawn sometime during the 3rd grade as well. I love this one because we lost Mackenzie a few years ago and this reminds me of how much she was loved.
When I expressed my sorrow at loosing my favorite painting, Jordan painted this one for me as a Christmas gift last year when he was 13. I was overwhelingly inpressed with his talent! I still have to take it for framing...