I just thought I'd post about Cory today, cuz I'm extra proud of him lately. He's in 10th grade this year and is taking a business management/entrepreneurship type class that also has an after school club, so to speak. He really loves this class and aspires to go to college and major in business. YAY!!!!!!!!
ALSO, he has joined the wrestling team! I'm sooo excited about going to his matches and cheering him on! Yesterday was his first practice (if that's what they're called). He told us all about it and admits that it's very hard, what with all the work outs and learning the all the techniques. He was very tired and very sore when he got home. I think he even went to bed early!
He even looks like a high school wrestler, doesn't he?
Look at his poor knee, both of them look like this.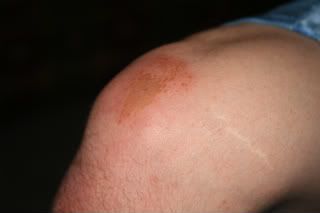 And I can't forget about Trey. I'm very proud of him too. He passed his test and now has his diploma!
Say "Hi" to everyone, Trey.