Pop Quiz!
Where do Luffa Sponges come from?
Seriously, what's your answer?
?
?
?
?
?
?
?
?
?
?
?
?
Did you say "the ocean?"?
Nope, that's what I thought too but contrary to popular belief, luffas do not come from the ocean. They are actually a plant, more specifically, a vine. They are much like a cucumber or a zucchini. I recently found out that in some parts of the world, they are harvested before maturity and eaten. Interesting huh?
I learned about luffas this past spring and decided to indulge, with the intentions of giving luffas and home made soap as Christmas gifts but so far I haven't made any soap so I guess I'll just be giving the luffas.
Anyway, the luffa vine is a very nice thing. The vines grow VERY tall and have the pretties little yellow flowers that bloom throughout spring AND summer. Next year, I will plant the seeds along a fence or lattice and it will be a beautiful site to see!
The luffas grow in various sizes but the bigger, the better. So now I'll show you what they look like and how you harvest them...
First, you find the ones that are ready...
You cut them from the vine...
You crack the peeling by useing a little pressure with your thumbs..
Then you peel...
Jordan was very proud that he managed to peel this one in one piece...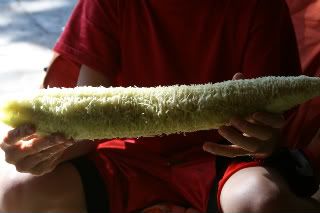 Once you've got it peeled, you squeeze out all the seeds and "dog slobber", then you rinse it with water, fluff it back out and lay it on the roof of your car and let it dry out in the glorious sunshine. :0)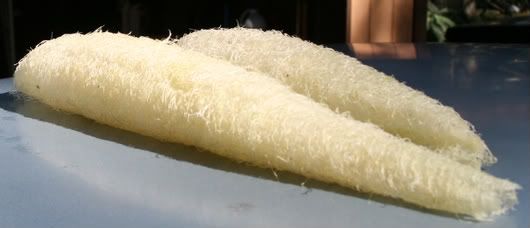 These luffas are PERFECT because they are NOT hard as bricks and they do NOT peel your skin off like a cheese grater. They are just right in texture, not too hard, not too soft, they're just perfect and I LOVE them! I'll never buy another wash cloth again. AND, they make great scrubbies in the kitchen so I'll never buy another one of those green scratchy things again either!
If you would like me to send you one of my Umpa Luffas, just leave me a comment then mention and post a link to this post on your blog. I'll do a random drawing on Friday.
You'll love it, I promise!