So I've been saving these 2 red shoe boxes I've had for years now. I saved them because they aren't your ordinary shoes boxes. You know how your ordinary shoe boxes have a lid on top that you take off? well these ones are more like a pull out drawer with shoe string handles and they are very thick and sturdy. I thought they would come in handy for storage someday so I just kept them in the top of my closet waiting for the day that I decide to do something with them. That day came over last weekend. Remember the Mod Podge I couldn't wait to try? Well...
Red Shoe Boxes + Mod Podge + Pretty ScrapBook Paper =
Sassy Storage Boxes for More Crafty Things!!!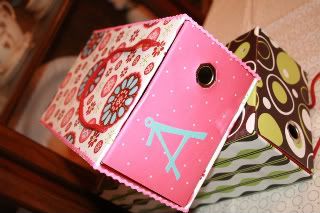 I know, I know. I forgot to take before pics. But how stinkin cute did they turn out?