I LOVE APRONS! I know it's sort of strange but I can't help it. I'm in love with old fashioned things and aprons are old fashioned.
So are wood burning stoves, ice boxes and oil lamps but I can't make those. Aprons, I can make.
I was a waitress for many years at various restaurants. It's a good job, if you're good at it, which (not to brag) I was. For example, many years ago on my first day at the Huddle House, I took home $75 in tips, okay now I'm bragging, but hey, that's worth bragging about, especially at the Huddle House!
Most waitresses wear those plain'ole, black waist aprons with the 2 pockets. You know the ones I'm talking about.
I think waitresses would like to wear something with a little more style, don't you? Something colorful, something cute...something like this: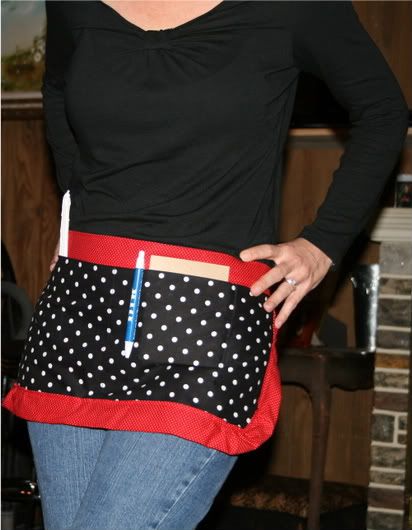 I'm selling these adorable little waitress aprons for $12.99 plus shipping
So anyway, I plan on opening an Etsy Shop in the very near furture (right now I'm working on my inventory) but in the mean time, I'm concentrating on these cute little waitress apons so if you know of a waitress that might be interested, feel free to contact me to place an order.
These aprons are made of various cotton print fabrics. They include a coridinating gathered ruffle trim and waist tie. They also feature 2 front pockets for carrying an order pad & pen, straws, condiment packets and most importantly, TIPS! I am also constructing football-fan color themed aprons, just let me know what team you like!
In addition, if you have your own fabric choice, send the fabrics to me and I'll make your own personalized apron, but it'll still cost $12.99 plus shipping.
Hey, I'm unemployeed and rely on my God-Given talent for income. :0)
I look forward to hearing from you!!!
Thanks!
~Angie~